An 'Intermediate' level of personal care is provided to those who require more support than what is offered in the community, yet are not quite ready for placement in a Personal Care Home.
Thorvaldson Care Center is the only Intermediate Care facility in Manitoba.
Thorvaldson Care Center is a unique option for the elderly, where:
~ Homecare services are unable to provide enough support in the community
~ Other facilities provide a limited level of care
~ Personal Care Home placement would be premature
What does Intermediate Care offer?
24 hour care / supervision by Health Care Aides (First Aid training)
Registered Nurse – Mon – Fri (7am-3pm)
Medications administered – including inhalers, eyedrops, dermal patches
Assistance with dressing, hygiene, bathing (provided by on-site staff)
Daily assist with catheters/oxygen
Overnight monitoring
Three meals daily plus snacks
Most special diets can be accommodated
Housekeeping & laundry (personal & linens)
Accredited Recreation directors
Private, bedsitting rooms with washroom
Two nurse call bells in each suite
Family advocate in Winnipeg not required
Services of our Registered Nurse include:
Health assessment / treatment / monitoring
Frequent, in depth communication with medical practitioners / families
Hospital discharge follow-up
Medications managed (refills, changes)
Monitor blood sugar / blood pressure / weight / oxygen levels
On-site preliminary testing for urinary tract infections
Weekly Lab visit (blood, urine collected)
Portable (in-house) xray service arranged
Medical appts / transportation arranged
Focus on health maintenance to prevent emergency dept visits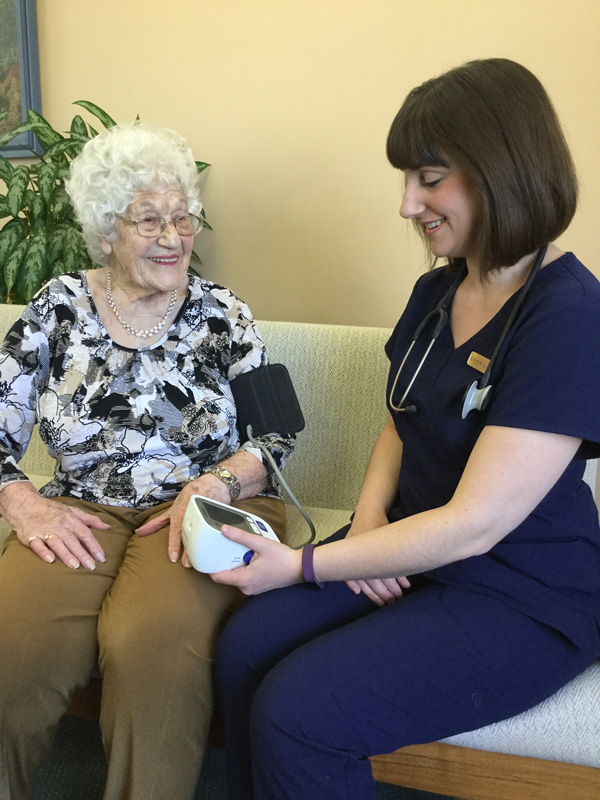 With the services of our on-site Registered Nurse and Health Care Aides, we are able to provide prompt, consistent and reliable care to our residents. Services can be put in place quickly when residents' needs increase.
Our RN provides a comprehensive level of care to our residents – and focuses on health maintenance and monitoring to prevent emergency dept visits. When one is researching different community facilities, it would be important to compare the nursing services they offer – as to what our RN is able to provide.
With the high level of care our Center offers, it is very beneficial for those elderly who have little (or no) family support, or for those with family members who are overwhelmed with caregiver 'burnout'.
It is reassuring to have the peace of mind that their loved one is safe and cared for 24 hours/day.